Changes in the Board of the Helsinki Foundation for Human Rights
After more than a decade of serving as President of the Board and more than thirty years of work at the Helsinki Foundation, its co-founder Danuta Przywara steps forward to become Chair of the Council, replacing Professor Janusz Grzelak in this role. On 15 June, the former Deputy President of the Board of the Helsinki Foundation for Human Rights, Maciej Nowicki, took the post of the Board's President.
Danuta Przywara, one of the founders of the Foundation created in 1989, was appointed President of the Helsinki Foundation for Human Rights in 2008. An active member of the Solidarity underground movement in the 1980s, in 1982 Danuta engaged in organising technical support for the authors of a report on the observance of human rights in the People's Republic of Poland (the Madrid Report), who set up the Polish Helsinki Committee at the beginning of 1983. She was awarded the Officers' Cross of the Order of the Restoration of Poland, the Bene Merito Honorary Badge and the Medal of Merit for the Justice System – Bene Merentibus Iustitiae.
Maciej Nowicki, the new HFHR President appointed in mid-June 2021, is a co-founder and leader of the largest Foundation's human rights promotion project, the International Film Festival WATCH DOCS. Human Rights in Film. The position of the Deputy President of the Foundation has been assumed by Dr Piotr Kładoczny, the head of Foundation's legal programmes and the incumbent Secretary of the Management Board. Lenur Kerymov, the head of Foundation's human rights programmes in countries of the former USSR, continues to serve as the Treasurer of the Management Board. For family reasons, in 2021 Dominika Bychawska-Siniarska ended her five-year term as a Member of the Management Board.
Lawyers Małgorzata Szuleka, previously responsible for international advocacy and research, and Dr Aleksandra Iwanowska, an expert in Foundation's projects conducted in countries of the former USSR join the Management Board – the former as the new Secretary and the latter as a new Member.
"There will be plenty of room in the Foundation's work for continuity, but also for taking on new challenges in new ways. We have just started working on a new long-term strategy for the HFHR, so it is too early to talk about the details. On behalf of the new Management Board, I would like to sincerely thank the Board of Directors for the trust they have placed in us. I would also like to thank the Foundation's team for their tireless work in times of extreme difficulty for human rights. Yet above all, today my thanks go to Danuta Przywara for the passionate and responsible way she has been following to build this exceptional organisation and its team from day one and throughout all these years", says the new President of the Foundation's Management Board Maciej Nowicki.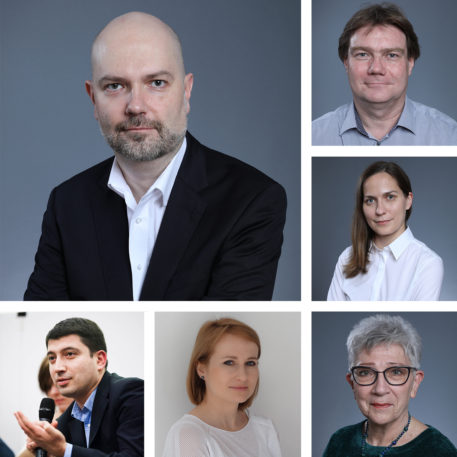 16.06.2021