Statement of Helsinki Foundation for Human Rights
Events of recent days, including, above all, the clearly unfounded request submitted by the Speaker of the Sejm to the Constitutional Court in a matter allegedly involving "a dispute of competence", a number of statements made by key politicians of the ruling parliamentary majority, which demonstrate their ignorance of the principle of the triple division of powers and the role of independent courts in a democratic state, as well as the notification of an upcoming request of the Prime Minister for the judicial review of a resolution of the Supreme Court, are further examples of the blatant abuse of legal process aimed at the pursuit of partisan political interests.
Contrary to the claims of certain politicians of the ruling party, the en banc resolution of the Civil, Criminal, and Labour and Social Insurance Chambers of the Supreme Court of 23 January 2020 (case no. BSA I-4110-1/20), does not undermine the judicial appointment powers of the Polish President.
The resolution reflects the highest sense of responsibility for the state, the fate of the justice system and the protection of individuals' right to a fair trial. This resolution stands in dramatic opposition to the actions taken by the ruling majority over the last five years, described as the "reform of the justice system". The systemic changes introduced in the judiciary not only failed to solve the many problems affecting the Polish justice system but even exacerbated them.
The measures taken by the ruling majority to "reform" the way in which the justice system operates have led Poland to the brink of becoming a pariah of parliamentary democracies, weakened the country's international position and led to legal chaos detrimental to the people of Poland.
The resolution of the Supreme Court gives key policy-makers an opportunity to roll back at least some of the introduced "reforms". It also provides an impetus for a genuine, rather than feigned, reform of the justice system, a reform that would be based on an accurate evaluation of the underlying problems, bonafide stakeholder engagement and respect for the constitutional system of the Republic of Poland.
Only such a reform may pave the way out of the crisis that Poland has plunged into because of the politicians.
Board of the Helsinki Foundation for Human Rights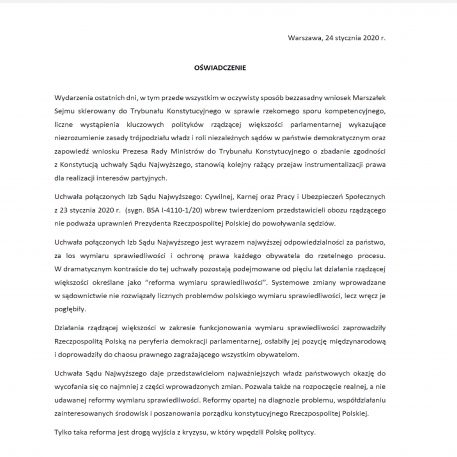 30.01.2020